Joining SLC4x4
Thinking of joining our club? Follow the below instructions to figure out which membership is best for you.
Membership types.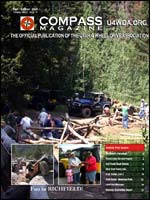 1. Membership with a U4WDA membership. $25.00
or
2. Membership without U4WDA membership. $20.00
Both memberships incldue, one window sticker, an @slc4x4.com email, full access to the SLC4x4 Forums, discounts from sponsors, and participation in the annual club BBQ (with raffle prizes). The membership with U4WDA gets you a 1 year membership to the U4WDA club and all the benefits it has to offer.
There is 3 steps to complete.
1. Register for a username on the forum.
2. Fill out the membership application below.
3. Send payment via the Paypal button below.
UNFORTUNATLY AT THIS TIME A SPAM BOT HAS ATTACKED THE REGISTRATION. Please contact Brad for further information.
Basic Club Rules and Regulations (subject to change):
1. No drinking and driving, or driving while intoxicated.
2. Respect private property and stay on designated trails whenever possible.
3. Club dues must be paid in full. These funds make it possible to maintain a website as well as sponsor other activities.
4. Be kind and courteous to one another.
5. Keep vulgar and offensive language to a minimum. (i.e. don't swear every other word, It isn't cool.) 6. SLC4x4 Club, its' members, sponsors and its' presidency, are not liable for personal injury to other members or guests of the club. They, SLC4x4 Club, members, sponsors and presidency, are not liable for any vehicle damage by or to members or guests of the club. This release of any and all liabilities is for any activity sanctioned or sponsored by SLC4x4 its sponsors or its members.